Share this infographic on your site!
How Much of Your Life Do You Spend Online?
In July 2012 alone, Americans spent 230,060 years of combined time on social media[5]. How much of your life are you spending online?
2013, the year US Internet consumption DOUBLED (x2)
Mostly due to increased data usage of our favorite apps.
[% of downstream data by service]
Traditional Line:
Netflix: 33%
YouTube: 14.8%
BitTorrent: 5.89%
iTunes: 3.92%
MPEG: 2.22%
Flash Video: 2.21%
SSL:1.97%
Amazon Video: 1.75%
Facebook: 1.48%
Top 10 total: 79.01% of downstream data
Mobile:
YouTube: 30.97%
HTTP: 14.37% (HTTP is all other regular web requests)
SSL: 8.92%
MPEG: 8.9%
Facebook: 6.83%
Pandora Radio: 5.15%
Google Play: 3.27%
Netflix: 2.69%
iTunes: 1.46%
Flash Video: 1.18%
Top 10 total: 83.74% of downstream data
But also due to increased time online, and connectivity. Our consumption habits are changing.
For the first time, app usage exceeded PC Internet Usage in January 2014.
55% of American adults have smartphones[2]
And 42% have tablets.
Total Internet Consumption:
55% = Mobile Total
47% = Mobile Apps
45% = PC Usage
8% = Mobile Browsers
Welcome to the new era of connectivity
Pretty much wherever you go you're "online." Even if you weren't aware.
At the mall –> Behavior tracked
At work –> On a traditional pc
In the car –> Smart consoles
Relaxing –> AC preferences in the cloud/connected tv
Asleep –> Smartphone updating
In the future, this is all set to increase.
But for now:
We spend more time on social media than any other task online
And we spend 60% of our social media time on smartphones and tablets
(driving up mobile usage)
Facebook is the giant.
Taking up 7x more of our time than twitter.
Profile of daily activity: [7]
Average time spent on Facebook daily: 20 billion minutes
Average daily messages sent: 10 billion
Average daily shared items: 4.75 billion
Average daily likes: 4.5 billion
Average daily uploaded photos: 350 million
Number of potential pieces of content a user is exposed to at login: 1500
In perspective:
Daily…
Equivalent of everyone on the planet spending 4 minutes online.
Almost twice as many messages sent as there are people on the planet
Nearly one like and one share for every adult on the planet
A photo uploaded for every American.
And 10 times more pieces of content than the number of people we can actually ever know…
Every time we log on.

On the flip side:
Facebook only accounts for 36% of North America's social sharing.
(That means we're spending A LOT of time online.)
Welcome to the age of the ever-connected human.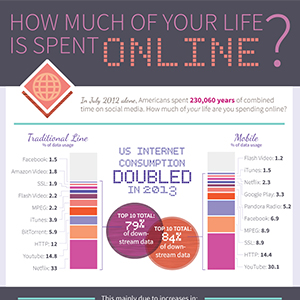 Citations: