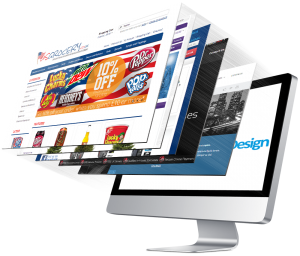 When you reach a point in your career where you feel like you're on a plateau, it might be time to look at master's degrees available in web design. Web designers create online content for clients interested in launching their own sites and running online companies. They handle everything from formatting the site and developing animation and videos to coding the site and adding articles and content to the site. A graduate degree introduces you to new online formats and teaches you tips that you can use to create better sites.
Web Design and Development
A degree in web design and development is one of the more common master's degrees available in web design. Design deals with the graphic elements of a page, while development refers to the implementation of a site. When you design a page, you take the needs of your clients and create a site and various pages that include the information and pictures that they want. Coding and formatting the content properly and adding more to each site is part of the development process.
Graphic Arts
Not all schools offer advanced degrees in web design, but you will find more programs that offer degrees in graphic arts. The graphic arts can refer to a large number of things, including digital images that you create and manipulate and advertising posters that you make on your computer. A graduate program delvers deeper into the topics you learned and studied as an undergraduate. Most programs also have a portfolio and final project component. You have the chance to create websites, digital posters and other works during your last year that you can use as a portfolio after leaving school.
Video and Animation
When a video goes viral, the video has the chance to make you thousands of dollars. When you post videos online under your own account, many sites will send you residual payments based on how many people looked at those videos. A graduate degree in video and animation will teach you the basics of creating these videos and show you how to film and edit your work. You'll also learn how to add in special effects that will make your videos pop and text or other graphics. You can use those skills to add animation and videos to your clients' sites.
Will Earning a Master's Help You Make More?
Though some people find success in the web design world with only an associate's degree or a high school diploma and some experience, others find that earning one of the master's degrees available in web design helps them increase their earnings potential. According to the Bureau of Labor Statistics, web developers earn a median annual salary of $62,500, but the median salary reported among the bottom 10 percent was just $33,550 a year. Finishing a higher degree can put you in the top 10 percent of all web developers who earn a median wage of more than $105,000 a year.
Related Resource: Web Design Scholarships
Whether you find yourself growing tired of your profession, or you just want to learn some new skills, going back to school can help you in the future. The top master's degrees available in web design include programs that offer advanced degrees in web design and development, but you can also study graphic design or video and animation.