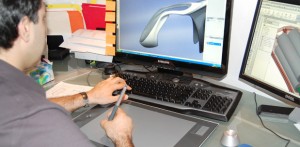 Individuals considering education and careers in engineering, architecture or drafting might be interested in the jobs available in industrial design. According to the Bureau of Labor Statistics, job growth in this field over the next decade is projected to be considerably slower than overall job growth in the United States. However, consumer demand will likely sustain the need for new industrial designers, and certain specializations are expected to grow at higher rates.
How to Get a Job in Industrial Design
When job growth in a field slows, competition for each position becomes stiffer. To get a job in industrial design, you first need a bachelor's degree in engineering, architecture or a related field. Skills in graphic design are integral to success in industrial design, and you will need to have an eye for aesthetics because products need to be visually pleasing as well as functional in order to sell well.
When pursuing a career in industrial design, you need to be familiar with computer-aided design (CAD) and computer-aided industrial design. An electronic portfolio of your unique designs will be integral to landing a good job in the field. Many degree programs for industrial designers help students develop and maintain this type of portfolio. In addition to a great portfolio, specialization in a rapidly expanding area of industrial design such as medical equipment or green product development may also help you in your career.
Medical Equipment Design
Although it is a growing field of industrial design, medical equipment design is one of the most demanding design jobs available. Designers and engineers with this specialization must get certifications and special training in medical equipment design. All products developed for use in the healthcare industry must adhere to regulations set by the Food and Drug Administration. Electrically powered devices must also meet medical electrical safety standards. However, for industrial designers with a careful attention to detail and an interest in making the lives of others easier, this specialization is a great opportunity.
Green Industrial Design
As consumers become increasingly aware of the need for green living and effective conservation of natural resources, many jobs are becoming available in green industrial design. Designers with this specialization work with sustainable resources to create furniture, appliances, and a variety of products for daily use. To get a job with this specialization, you might wish to combine you engineering and design studies with classes in environmental science and ecology. If you have a deep interest in green design, you might also choose to get a job educating others either in a school setting or with the government.
Related Resource: Industrial Design
If you enjoy figuring out how things work or improving on the design of manufactured goods, you might do well as an industrial designer. People in this career field design everything from toys to automobiles. They work to create better cup holders in your SUV and to develop the medical equipment used in life-saving surgeries. Although the job growth in this field is slower than in other fields, there are still plenty of jobs available in industrial design.