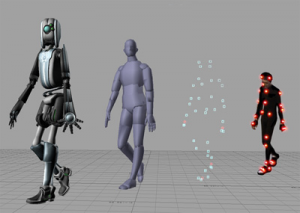 Are you interested in learning about the jobs available in computer animation before you enter a formal degree program designed to prepare you for the field? If you are the type of person who wants to inform themselves prior to making big and expensive life decisions, it is important to understand what titles you can hold in computer animation along with what these professionals do on a daily basis. By educating yourself on your career options before you work on your educational background, you can feel confident that you are working towards a career that will fulfill you and still pay the bills. Here are some of the most popular career options in computer animation that you should consider:
Technical Artist Who Offers Technical Support
In the computer animation industry, animation teams work together to design graphics, optimize the graphics and to exchange creative ideas. One career option that many do not consider is that of the technical artist. A technical artist who works directly with a computer animation team will offer technical support to members of the team starting at research and development and ending at deployment. You may be asked to improve the graphics, to help solve technical glitch issues, and to act as a negotiator who works with the programmers and the designers to prevent conflict. The average salary of a Technical Artist is $71,250, but varies depending on region, according to Glassdoor.
User Interface Designer to Improve Usability
Mobile applications and other web-based programs are becoming increasingly popular. In a world where HTML and Flash publishing platforms are taking over, there is a growing need for designers who specialize in user interface. If you hold this title, your job will be to create interfaces and then organize these interfaces to ensure that applications and games are user-friendly and easy to access. In addition to designing the interface, you will perform tests to verify that the platform is as easy to use as possible. Demand in this field is on the rise and designers average a salary of $90,000 per year.
3D Artists For the Entertainment Industry
More and more 3D animation is being released as televisions and movie theaters release 3D-ready products. If you want to put your artistic creativity to use while working in computer animation, you may want to consider becoming an artist who specializes in 3D modeling or 3D animation itself. Typically, as an artist, you will work in a 3D specialized team who collaborates to create objects or characters for television shows, games or movies. A majority of 3D artists will work in entertainment, and competition in this industry is fierce even for people with advanced degrees.
Related Resource: Webmaster
These are just some of the many jobs that are in high demand in the growing field of computer animation. Because of the highly competitive nature of careers in this field, you need to consider which degree path will give you the knowledge, the skills and the leverage that you need to succeed and to be given an opportunity. With an associate's, you may be able to work in web animation. With a bachelor's, you can work in design, 3D animation, graphics, production, graphic design, programming and more. Be sure to compare the jobs available in computer animation, and then learn what degree is required to be selected for that job.