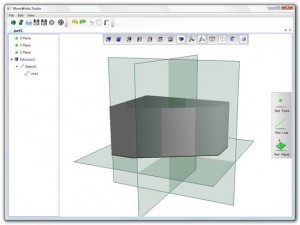 If you love feeling the satisfaction of rendering precisely measured 2-D and 3-D structural artwork, you may want to look into the types of jobs available in computer-aided design. Any industry that requires technical drawings or 3-D models of buildings, structures, products or open-air spaces has a need for CAD artists to translate the ideas of architects and engineers into a visual design. CAD artists work in the automotive industry, architecture, computer hardware manufacturing, television and film and many other areas that once relied on hand-drawn designs for conceptualization. CAD software has completely changed the way many products, such as cosmetic applicators and pump dispensers, are developed.
Depending on the type of job you do and the level of responsibility you take on, you must have at least an associate's degree in CAD or a bachelor's degree in the field you want to enter. If you want to work on microchip designs, you don't necessarily need a four-year electrical engineering degree, but math and engineering courses can help you find employment. To work in architecture, a two-year degree is the minimum requirement, while a four-year architecture degree expands your opportunities.
Choosing the Right CAD Career Path
While the minimum requirement to find CAD employment is an associate's degree, competition for jobs is extremely high due to the slow increase in the number of jobs, according to the Bureau of Labor Statistics. The cause of this slowdown in the job market is all the technological advances made in CAD software that makes human labor less necessary. Therefore, education and work experience play a strong role in finding work. The best plan is to obtain an associate's degree and begin working in the industry while continuing your education. You can stand out from the other CAD artists by earning a professional certificate from the American Design Drafting Association. The ADDA offers certificates specializing in civil, mechanical and architectural drafting, and to earn one of these certificates, you need at least three years of professional experience in your field.
As in other highly competitive job markets, you may need to relocate to find stable employment or increase your salary. Once you become employed, most of your time will be spent working in an office, while some days will be spent on a construction site, airplane hangar or manufacturing plant. Construction sites include civil engineering sites for city projects, architectural sites for building construction and pipeline sites for underground piping. Aeronautical and electrical drafters usually don't have to leave their offices, but they do meet with engineers to discuss plans for aircraft, missiles, electronic parts, computer components and electrical wiring.
CAD Career Salary and Related Jobs
According to the U.S. Bureau of Labor Statistics, drafters earned a median annual salary of $47,870 to $55,700 in 2012, and the top-earning 10 percent made $77,770. CAD artists work with technicians in many related occupations, including civil engineering technicians, electro-mechanical technicians, industrial designers, landscape architects and mechanical engineering technicians. Technician jobs typically require an associate's degree or certificate, while architecture and design jobs require a bachelor's degree.
Related Resource: Industrial Design
CAD artists must have an excellent eye for detail as well as a strong drive to find and obtain employment, but the work is often very exciting and rewarding. To make yourself more competitive for the jobs available in computer-aided design, you must plan ahead and gain work experience while completing your education.