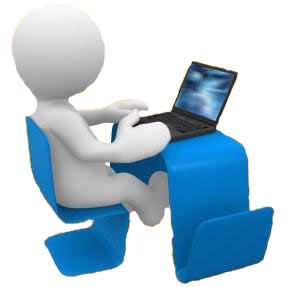 Are you trying to learn the difference between an associate's degree and bachelor's degree in Web design? If you are currently in high school, or you are planning to enroll in college as a reentry student, it is important to know what type of degree program will help you get where you need to go formally. Most employers who are looking for candidates in Web design prefer individuals who have a formal degree in a related area of study or several years of experience. Since you need either a degree or experience to compete in the field, taking the time to earn your degree is often the most practical choice. Read on, and learn about the difference between associate's and bachelor's Web design programs.
The Time It Takes to Earn your Degree
One of the primary differences between an associate's and bachelor's degree program is the time that it takes to complete. When you enroll in an associate's degree, you will complete some introduction courses in Web design and general education credits. If you choose to enroll in a bachelor's degree program, you will dive deeper into the field of Web design, so that you can build a deeper knowledge for the principles and theories that relate to the field. If you are enrolled in school full-time, you can earn your A.S. degree in 24 months or your B.S. in 48 months. If you decide to pursue an associate's degree at an accredited institution and then later decide to pursue a bachelor's, the credits you earned to attain an A.S. can be applied towards the B.S.
What Types of Positions You Can Pursue with an Associate's or a Bachelor's
Another factor that you should consider when you are comparing your degree options is what your future career goals are. If you want to work in Web design, you need to know what title you can pursue to become a Web designer with a respectable employer who pays well and offers opportunities for advancement. Some smaller employers will hire Web designers, database administrators, computer programmers, writers, editors and publishers with an associate's degree. If you want to be hired on in a higher pay grade, you will more than likely need a four-year degree. Those who want to become self-employed will take time to earn their bachelor's to further develop their skills.
Which Degree Makes the Most Sense for Web Designers?
Demand for professionals in the field of Web design and other related computer professionals is on the rise. In fact, the growth in the field is projected to grow by as much as 37% in the next few years, according to the Bureau of Labor Statistics. You need to consider what type of degree is going to take you the furthest in a field where the demand is high. A bachelor's degree is much more likely to open doors for you than an associate's, but if your goal is to enter the field as fast as possible you should consider an Associate's.
Related Resource: Webmaster
About 10 percent of all employees between the age of 25 and 54 possess an associate's degree. If you want to compete with the 10 percent and all of the others who have a bachelor's degree, you need to start applying to school. Now that you know the difference between an associate's degree and bachelor's degree in Web Design, you can choose which is best for you.