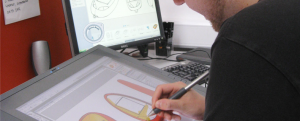 Industrial design is the intersection of creativity and practicality. While people may not be familiar with the term, they have inevitably benefited from it. From cars and chairs, to toys and kitchen tools, to cell phones and other high tech gadgets, industrial design polishes the products people use to make them more comfortable to use, more appealing to the eye and more efficient to produce.
How Does the Process of Industrial Design Work?
According to the Industrial Designers Society of America, industrial designers use creativity and analysis to perpetuate a continual innovation process of "learn, think, do," to improve a user's experience with a product or service. They begin by defining the problem they need to solve by studying who uses the product, how those people use it and why they do so. Next, they brainstorm to identify creative solutions. Then, they use diagrams and illustrations created by hand or with the help of a computer-aided design and drafting program to help explain their concepts. Prototypes are built, the idea is tested on a sample audience, and then it is refined. As they are working, industrial designers must balance the physical and psychological desires of the customer with the practical needs of the manufacturer to come up with products that appeal to their intended audience and can be produced within the company's technical, material and economic constraints. Convenience, safety, appearance and feel are all considered.
Where is Industrial Design Used?
Since an appealing product that can be produced efficiently is universally valuable, industrial design can be used by a wide variety of businesses on virtually any product or service. Industrial designers often work as part of a team and may also be asked to contribute to packaging design, advertising and space planning. They may even assist in improving manufacturing processes, detailing quality control measures, and developing regulatory guidelines and industrial standards.
What Education is Necessary for an Industrial Design Career?
For entry-level positions in industrial design, most employers expect a bachelor's degree. The National Association of Schools of Art and Design accredits design programs. Currently, more than 300 schools have accredited programs. Industrial design programs should include classes that cover sketching, computer-aid design and drafting, manufacturing methods, and industrial materials and processes. Many also include some basic business courses to provide students with an understanding of how the business world works and how design functions in that environment. During the course of a design program, students should work on individual and group projects, have the opportunity to participate in internships, and assemble a portfolio of their work that they can use in their job search after graduation.
What are the Career Prospects in the Field of Industrial Design?
Although industrial designers work in a wide assortment of industries and assist with the development of innumerable products and services, industrial design is a highly competitive field. In 2012, there were fewer than 40,000 industrial design jobs, and the U.S. Bureau of Labor Statistics predicts a measly four percent job growth rate for the field in the decade between 2012 and 2022. Professionals working in industrial design earned a median annual salary just shy of $60,000 in 2012.
Related Resource: Web Design Internships
An effective industrial designer needs creativity, analytical skills and a gift for problem solving to identify an issue, and then generate a unique solution for it. Mechanical skills help them ensure their solutions are feasible. Artistic talent, computer proficiency, and communication skills allow them to present their ideas. While the general public does not often consider their contributions, industrial design professionals play a vital role in shaping the products and services used every day.