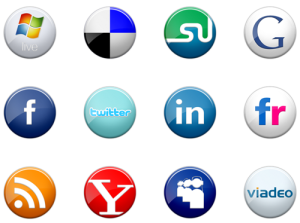 A social media badge is essentially a small piece of information that you place on your blog, website or on a social networking account. Think of this badge as a way for others to identify you within seconds. There are now simple widgets that let you automatically add your information and place the badge on your page and generators that let you create a custom design. Whether you have your own site, or you just use social networking sites every day, you'll want to learn more about these badges.
What Does It Include?
There are a number of different badges that you can use online, and each of the more popular designs let you add as little or as much information as you want. According to Josh Catone of Mashable, a social media badge designed for use on a website or blog can include links to all your social networking sites. Small icons that relate to the logo of each of those sites sits at the bottom or on the side. You can also add your real name or a pen name, upload a picture of yourself and even include information about where you work or links to your blogs and websites.
Widgets vs. Custom Designs
When selecting a new badge, you might want to look at the differences between widgets and custom designs. Widgets, also known as badge generators, are simple plug in widgets. After adding the pictures and data that you want to add, you can upload it to your site. The main problem is that most widgets tend to create similar designs that won't help you stand out. If you want something that works with the colors or theme of your site, you might choose a custom design. You can select everything from the fonts and colors to the size and design of the badge.
Why Use a Badge?
Think of your social media badge in the same way that you do the badge you wear to work or your favorite convention. That badge shows that you belong there and lets others know your name and a little bit more about you. Online users today tend to view 10 or more blogs every day. Using a badge lets them learn more about you, your likes and dislikes, where you work and what you like to do. Adding links back to your blogs and sites can also help you gain new readers and followers. Whether you use Instagram, Twitter, Facebook, YouTube or any other site, you'll give people who like your comments, photos and videos a way to follow you.
Uploading a Badge
Uploading a badge to your site is incredibly easy. If you have a blog, look for one of the more popular badge widgets. Some blog platforms require that you copy and paste the HTML information onto your site, while others let you add the badge with one click of a button. You can then edit that information with your personal details and save the new layout of the page.
Related Resource: HTML Coding
Blog owners and social networking users always want to find a way to set themselves apart from the pack. Placing a badge lets you set yourself apart and gain some new followers at the same time. A social media badge usually includes an image of your choosing, your real or pen name and some simple details about you.