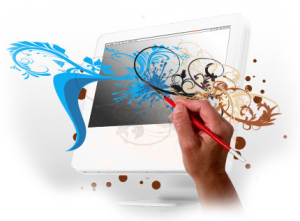 Many people interested in a career in web design often ask themselves, "What is a front end developer in web design?" While there are no concrete rules distinguishing between the roles of back end and front end web developers, there are broad guidelines that define the role. For example, if someone using a website, app, or program can see it, chances are a front end developer played an active role in its development. Understanding the responsibilities and role of a front end developer will help you decide if this career path is right for you.
The Role of Front End Developers in Web Design
When discussing Web design and development, front end developers are typically referenced. Only a few short years ago, graphic designers were called upon to design and develop websites and other software applications. Today, the roles of graphic designers have expanded far beyond the creation of graphics and pictures to include application and Web development, accounting for functionality as well. The result has been the creation of the front end developer title as it provides a more accurate description of this expanded role. Thus, the visual experience and "feel" users get when visiting and navigating a site is the product of the site or application's front end developer. This includes all of the page elements that provide a website with a distinctive look and feel.
Front End Developers and Functionality
Not only are front end developers responsible for the look and feel of an application or website, but they are also responsible for a site's layout and its overall functionality. In addition to being visually appealing and providing relevant information, it's equally important that today's websites allow users to intuitively and quickly navigate throughout the sites. This includes the development of shopping carts, menu bars, and easily accessible links. What is a front end developer in Web design? Basically, front end developers are largely responsible for all of the on-page elements that make a site or application both functional and visually appealing.
Technical Requirements to Become a Front End Developer
The position of front end developer reflects the expanded skill sets and responsibilities of today's Web professionals. According to The Guardian, front end developers must be well-versed in an array of tools and application languages, including XHTML, HTML, Cascade Style Sheets, ASP.NET, Java script, and any other skillsets required for their job function within a company. Not long ago, graphic designers were not required to possess skills in these areas, but they are skillsets now required for today's front end developers.
Important Considerations
Due to the fact that front end developers are closely tied to user experience, there are a myriad of important factors that must be considered when designing websites and other front end applications. For instance, front end developers must be familiar with file sizes for speedy downloads, multiple Web browsers, the effect of different screen resolutions on a site, correct image sizes for improved loading speeds, outdated video cards, and Internet connection speeds.
Related Resource: Specialize a Degree in Web Design
The goal of a front end developer is to design and develop appealing, fast, and easily navigable pages and interfaces that capture user interest and provide them with the best user experience possible. Careers in front end development are in high-demand.