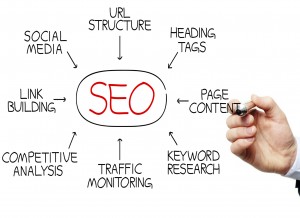 If you are interested in pursuing a career that involves writing and/or information technology, an important question has probably crossed your mind: "What is a content strategist in web design?" By reading the information found below, you can obtain an answer to this question and several others that pertain to the field of web design.
Web Design – The Basics
Although broadly defined, web design is basically the process of constructing and/or maintaining a website. This process can involve several components, including but not limited to web graphic design, authoring, interface design, user experience design, and search engine optimization. In many cases, individuals will work as a team to cover every aspect of the designing process, although in some cases one designer will create the entire website alone.
What Content Strategists Do
Content Strategists play an important and integral role in the web design process. In short, they are responsible for creating the content that prospective customers and loyal clients read when they visit a business's website. Some examples of content that strategists may be responsible for creating and developing include blog posts, web articles, and product descriptions.
In addition to coming up with content ideas, strategists must figure out how to get the site to be promoted to the top of the search engines. Part of this strategy is working with the design team in all elements. From inception to end result, the strategist helps move the ideas along to the finished result. They work with the writers and designers and help to divide the work load accordingly.
Making Great Content
In order to excel in their field, content strategists will usually employ several specific strategies to make the work they produce excellent. As many content strategists know, online content is a specific form of writing that requires the use of unique techniques in order to be successful. Some of these techniques include:
1. Search Engine Optimization (SEO).
SEO is an internet marketing strategy that involves the use of one or several strategies to ensure that a business's web pages reach the top of search engine results pages for major engines such as Google, Bing, and Yahoo. To make this happen, content writers will systematically insert keywords into the text that are frequently used when prospective customers do an internet search for information and products.
2. Making Content Scannable.
Yet another strategy that content developers employ to be successful is the use of "scannable" content. As multiple research studies have found, the majority of people who read text online do not read it in entirety. Rather, they scan it in order to find the information they are looking for. In recognizing this reality, content strategists employ techniques such as the use of headers, bullets, and numbered lists so that their content can be easily scanned.
Salaries
Content strategists salaries are contingent upon location. For example, Indeed.com reports that a content strategists in Mississippi can expect to earn about $93,000 annually. However, a content strategist in New York earns an average of $108,000 each year. In addition to being mediated by location, things such as education, experience, and areas of specialization can affect the salary that a content developer earns.
Related Resource: Front End Developer
Conclusion
If you are thinking about pursuing a career that involves the use of internet technology and/or writing, you should know that becoming a content strategist can help you accomplish this goal. Now that you have an answer to the question "What is a content strategists in web design?," you can make an informed decision regarding whether pursuing this career path would be appropriate and advantageous for you.