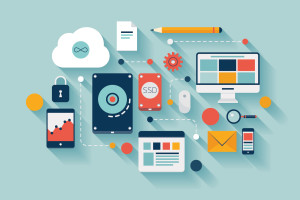 Management jobs in web design are not limited to the technical side of web site creation. There are other jobs that encompass everything from digital media to digital marketing.
Digital Media Manager
A digital media manager is a key member of the marketing management team. They are responsible for the maintenance of all website content and the online execution of the digital media marketing objectives. They must also increase the effectiveness of the website's brand awareness, lead generation, online conversion and retention functions. Their technical responsibilities include supporting business driven website updates and improving the usability and intuitive design of the company's website. Digital media managers must maximize SEO and SEM effectiveness through integrating relevant information from content writers and editors into the website. They ensure the website aligns with the company's brand and marketing strategies. They work directly with website development and digital marketing managers.
Web Design Manager
A web design manager must have excellent leadership and technical expertise because they must manage a team of web design developers and technicians. They must also have excellent project management skills because they will oversee digital media projects, which involve budgets, schedules and demanding customers. Upon project completion, web design managers will use their development optimization expertise to deliver the best user experience in the most technically efficient way. Web design managers generally have a strong background in graphic design and web development. They should have advanced knowledge of programming languages, such as HTML and mySQL, and macromedia suites, such as Flash and Dreamweaver. They should also be familiar with internet applications such as PHP, RSS, and ASP.
Web Marketing Manager
Web marketing managers occupy a strategic leadership role that is responsible to oversee, optimize and expand online traffic and lead generations. They formulate and execute web and digital marketing strategies designed to launch new websites and increase traffic to existing websites. A web marketing manager should have an in-depth technical knowledge of SEO, SEM, content marketing and account management. Their web marketing strategies must incorporate company objectives, customer preferences and proven techniques to increase revenue. Web marketing managers guide digital marketing campaigns that include user driven content, personalization strategies and user optimization techniques. In order to remain successful and competitive, they keep up to date on current tools and practices in user-centered web marketing.
Web Development Manager
According to PayScale, a web development manager has very technical responsibilities. They manage and mentor a team of technicians who are responsible for the reliability and performance of high traffic websites. Because of this, they are ultimately responsible for the testing and execution of weekly code deployments. They continually focus on minimizing errors and maximizing functionality and productivity. Web development managers must have excellent quality control skills because they track and trend technical defects and mistakes. They also apply their risk management skills as they continually provide support for web application disaster recovery and emergency planning. They work closely with IT technicians to track daily repair tickets and scheduled system maintenance.
Related Resource: Advertising Design Jobs
Web design managers must have excellent organizational and technical skills. Other management jobs in web design include content, brand and digital communications managers.