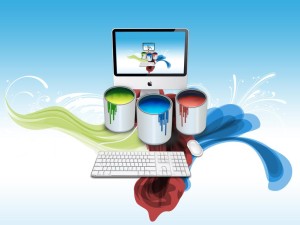 If you have always dreamed of working in marketing and you have an eye for design it is time to learn how to get a jobs in advertising design. Marketing is a very broad field that includes all different types of positions that are geared towards creative, analytical or business-minded professionals. As a designer who can come up with unique imagery that will sent a widespread message to consumers, it is very important that you learn to market yourself to land a big role. Read on, and find out what steps you will need to show off your design talents so that you can work with an advertising firm or in an advertising department with a corporation.
Get a Formal Education Majoring in Design
While some smaller companies and smaller firms will hire designers who have a certificate, a majority of professionals will dedicate their time to enrolling in a bachelor's program to develop their advertising design skill. You cannot learn how to be artistic and creative, but you can learn how to use specific programs and how to perfect your skill by taking a formal degree program majoring in something like graphic design. Some schools offer more focused programs in advertising design or advertising arts, which are best suited if you know this is the industry you want to be in.
Build Your Portfolio
One thing that is unique about jobs in design is that you need more than just a traditional resume to apply for jobs. While firms may look closely at the school you choose to study at, they will look even closer at your portfolio than anything else. You do not necessarily need to have professional experience to have a portfolio. While you are in school, make sure to save the design projects you complete. This is a great thing about taking a formal arts program.
You may even be able to take on smaller freelance projects gratis just to have some experience to add, according to Envato. With a professional-looking portfolio you can improve your chances of being considered for an entry-level job without any work experience.
Practice the Interviewing Process and Start Applying
Ad designers typically are responsible for working with a client or a department head to plan a project or design for an entire ad campaign. Since the designers hold so much responsibility on how the campaign performs, firms will take the recruiting process seriously. Since designers need to work close with marketing managers and other ad personnel, you need to be a skilled communicator. Some artistic professionals struggle with communication so it is important to build on this skill.
Check out the listings for graphic designer or creative designer positions with organizations or with advertising firms and research these companies before you sit down for a meeting. If you are both a skilled designer and you show that you know the company's mission, you can get positive attention.
Based on current demand in the marketplace, advertising design is one of the creative jobs that has the highest demand, according to How Design. With several firms looking to add positions and fill vacancies, this is a design job where you could earn a good living and also receive great benefits. Be sure that you build a robust resume and a creative portfolio and you will show that you know how to get a jobs in advertising design.