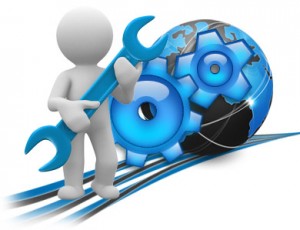 What is a webmaster and how much does a webmaster make? These are two common questions that individuals who plan on studying computer science or a related major ask as they are entering school. While you are in school, you will almost certainly get the answers, but it is best to research career options and paths before you select courses. This is why you should take time to learn about many of the occupations that you can pursue once you graduate school and how much you can make once you are hired. If you set realistic expectations, you will get the most from school and the most during your search for employment. Here is your guide to understanding the role of the webmaster and salary ranges in the field.
What Does a Webmaster Do and Why Are They in Demand
A webmaster, as the title would infer, is an IT professional responsible for designing a website and maintaining the websites coding so that it is fully functional. Webmasters can be employed in-house with small and mid-sized companies or they can work as an independent contractor who will work for several different larger companies on a small-scale project. While many companies are offering small business owners turnkey product solutions that are affordable, there is still a growing demand for webmasters with companies who do not want a cookie cutter website and who do want a visually appealing website that will attract visitors and create the brand. As Internet marketing grows in popularity and more and more companies understand the importance of having an online presence, the demand for webmasters will also grow.
What Are Realistic Salaries for Webmasters?
Your earnings will be influenced by a number of different factors if you are working as a webmaster. Based on data collected by the Bureau of Labor Statistics, where all salaries have been gathered and averaged in the nation, the national average salary for webmasters is $76,560, with the highest paid professionals in the field earning around $94,320 per year and the lowest paid professionals earning $42,880. As you are reviewing national averages, it is very important to consider the upper and lower salaries reported in addition to the average. This helps you set realistic expectations rather than setting your sights too high.
Many different factors can affect your salary if you pursue a job as a webmaster. One of the biggest factors that can affect your salary is the industry that you work in. All industries need webmasters, but some pay better than others. You may need to research the demand for webmasters in industries when you are approaching graduation so that you know where to start applying. Competition in the highest paying industries is undoubtedly going to be fierce, but having your degree will help you.
Related Resource: Web Designer Salary
Demand in network systems and data communications is only projected to grow. In fact, the BLS predicts that the market for webmasters will grow by 53% by the year 2018, which is significantly higher than almost all other fields in the nation. Be sure to consider how secure you will be when you enter a field like this, and find a quality degree program. Now that you know how much a webmaster makes, you can decide if this career path is one that you should follow.