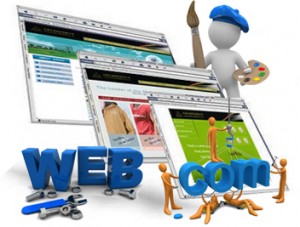 If you are looking into web design as a career choice, you might be wondering how much does a web designer makes Actually, this question is common among students of all kinds. With four years' worth of tuition and student loans, and big plans for the future that might involve everything from marriage to purchasing a home and a new car, it's a central concern for a very good set of reasons. There's plenty of good news for those who are currently enrolled in a web design or computer science program, with ambitions of designing for the web. The Bureau of Labor and Statistics estimates strong occupational growth through the end of the current decade and shows that today's designers enjoy a salary that's higher than the median American salary nationwide. Both pieces of news are bound to translate into an easier job seeking process for new graduates.
The Salary: A Look at the Average Yearly Earnings of the Typical Web Designer
The Bureau of Labor and Statistics keeps an active watch on all kinds of profession, aggregating statistics regarding growth, educational requirements, and average annual salaries. For those who land a job in web design or the broader field of web development, the government agency estimates an average salary of $62,500 per year. That equates to an hourly wage of just over $30, making it one of the most lucrative positions within this segment of the tech sector. It's no wonder why: Websites consistently need to be designed, redesigned, evolved, transitioned, and brought in line with current trends and user expectations. The most qualified people to perform these tasks command a high salary for their efficiency and advanced set of skills.
Long-Term Growth: A Promising Sign for Recent or Soon-to-Be Graduates
In addition to the current average salary for web designers, a common question among those who have either recently graduated or will receive their degree within the next year, concerns the growth rate of their eventual position. Here, too, there is plenty of good news for those who have elected to study web design. The Bureau of Labor and Statistics estimates that the broader web development profession will grow at an annual rate of 20 percent between now and the end of the present decade. That's quite a bit faster than the average growth rate of all professions combined, which means that a highly skilled web designer will have more choices available and fewer competitors for each open position near them.
Educational Considerations: A Look at the Average and More
The BLS notes that today's web designers typically need to have at least an associate's degree in the field in order to enjoy the full range of salary and job growth benefits that currently characterize the field. Students might want to give themselves a bit of added "insurance," however, by pursuing a four-year degree in fields like web design, web development or computer science. It certainly never hurts to add additional qualifications when looking for a new position in any sector.
Related Resource: Web Content Copywriter
A Growing Field Full of Exciting Opportunities
The Internet as we known it isn't going to slow down anytime soon in terms of job opportunities and growth. In light of this, web design enjoys high salaries, great growth, and lower-than-average competition. Those students wondering, "how much does a web designer make?" can rest easy: The answer is a higher-than-average salary with long-term growth potential throughout the decade.