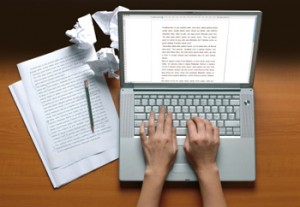 If your dream is to become a web content writer, you are living in the golden age. Advances in technology have steadily increased the importance of the written word. Text-based communication is booming like never before, and both individuals and corporations are communicating via social media and websites on an enormous scale. At the same time, the number of people aspiring to write web content is on the rise. To be a successful web content writer, you need to rise above the pack and produce work that will capture the attention of its intended audience.
Required Education
There is no specific required education for content writing. People with high school diplomas or GEDs become web content writers as do people with doctorates in their chosen fields. To be a successful web content creator, you simply need to know how to write. This includes a variety of different skills. Web content writers must:
Be able to write efficiently and quickly, often on a broad range of topics
Have a thorough understanding of grammar
Be familiar with rules in punctuation and capitalization
Be creative and able to steadily produce original work
Since a knowledge of the world around you and an overall understanding spelling, grammar and punctuation are essential to the job, certain types of education can be helpful. A degree in journalism or English is helpful. If time or money are limited, taking a few writing courses at a community college will help.
Resources for Content Writers
Self-motivation and continuing education are both essential for those who choose content writing as a career path. Style manuals and online sources will help to keep you abreast of changing guidelines and the evolving world of language. Content writers should obtain and regularly consult either the Associated Press Stylebook or the BBC Style Guide, depending on their target audience. American writers will also find Elements of Style from Strunk and White to be of great value, and the Writer's Handbook contains a useful editing checklist that even seasoned freelancers find helpful, according to Library Spot.
Finding Work as a Content Writer
There are many different ways to become a content writer. Most content writers begin by working as contractors for larger organizations. In order to build a good reputation and expand your resume as a content writer, you should regularly compose content for several different online venues, especially when first starting out. Content farms, which pay low rates for quickly composed content from a panel of ghost writers, help many content writers find niches, topics on which they enjoy writing and write well. Pay-per-click websites allow content writers to compose content of their own choosing while earning some income. Unpaid work is also important as a content writer builds a reputation, so it is important to become active within a blogging community if you wish to be successful as a web content writer.
Related Resource: Web Designer Salarys
Today, every business with an online presence needs quality web content. There has never been a better time in history to become a writer. Since this field is booming and covers a broad range of topics, writers of many different types are successfully transitioning to content writing. With focus, discipline and a working knowledge of grammar, you can become a web content writer.