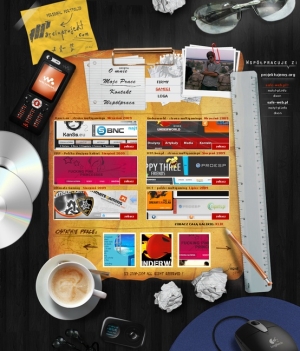 If you are in the process of obtaining an Associate's or Bachelor's degree with a focus in Web Design, you do not have to wait until you have job experience to start building your web design portfolio. In the field of web design, you will quickly learn that your portfolio is like your resume and shows off your skills, talents and experience with projects and prior clients. As a professional web designer, you will be responsible for designing a wide range of websites, landing pages, and webpages that will satisfy your clients and represent a specific brand. This is why it is extremely important to develop your skills by completing a formal 4-year degree program, but while you are in the process of of completing credits you can start to build your resume in the form of a portfolio.
Job Experience Is Not Required
You might think that experience on the job is a requirement for building a web design portfolio, but this is not the case. In fact, as you are completing class projects you are building your portfolio in the process. This is why it is so very important for web designers to pay attention in class, and to put their all into every class assignment.
Web design is a highly competitive field, and more than 25% of all of the professionals working as professionals designers are self-employed. The other 75% work in either graphics, web programming, desktop publishing or web development, and are employed by companies in a variety of different industries. If you want to be independent or you want to search for an employment opportunity, you need a comprehensive portfolio that includes samples of relevant projects you have complete throughout school.
What to Include In Your Web Design Portfolio
Both freelancers and job applicants will need to provide potential clients and employers with a portfolio. One of the most common projects to include in your portfolio is your website. This website could be all about your brand as a professional freelancer, or about something you have a passion for, but you will need a professionally designed website that includes a landing page, 404 pages, contact information, and customized themes. If you take time to build and improve upon your site as you learn, your website can show off several different skills you have gained in school.
Making up a mock client is a great way to add to your portfolio. If you are a web designer, chances are you are very creative and have a great imagination. By creating sales pages, landing pages, eCommerce shops, and other webpages for imaginary clients, you can show prospects and employers that you can turn a client's vision into a reality.
Free web templates can be found all across the world wide web, and you can use these templates to your advantage. You cannot post a free template on your portfolio, but play with the templates and modify them so that they are original and unique. This is a good place to start as you are learning and can show off your progress.
Professors will assign your web design projects, and instead of dreading these assignments, look forward to doing your best so that you can add to your portfolio. Add excellent items to your portfolio and not just sub-par projects to raise the quantity. If you follow these tips, you will already be on your way to a complete portfolio before you even graduate.