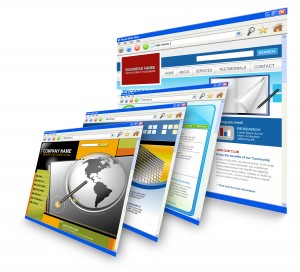 Though you might think that you can design and build websites will little education, earning a Master's in Web Design has a number of possible benefits for you. Web designers and developers were responsible for some of the top websites in the world, and those designers won awards for their hard work. The skills that you develop in graduate school can help you better give your clients what they want and create more professional looking websites.
What is a Master's in Web Design?
According to the Bureau of Labor Statistics, there is a wide discrepancy between the wages reported by web designers that ranges from around $33,000 to over $100,000 a year. Those on the higher end of the wage range are usually those who have more education. Going to graduate school lets you learn some of the more complicated coding elements and concepts that will help you create a better looking site. You may also have the chance to attend networking events and get help creating a more powerful portfolio to show potential employers.
Can You Choose a Specialization?
Many advanced web design programs not only offer specializations but encourage students to choose one select area. Also known as concentrations, these specializations offer you the chance to focus on an area that applies to your career path. If you love the idea of working with major corporations and creating solid marketing campaigns, you might choose a concentration in advertising or marketing. If you want to film videos that you can post and sell online, you might select a concentration in animation and video. While you'll still need to take courses on web design and development, you can also take a few courses in your concentration.
Types of Classes in the Program
Most Master's in Web Design offer some of the same classes or similar classes, and these programs are sometimes open to those who have an undergraduate degree in graphic design or another topic. Some of the early classes that you take cover the basics of designing and developing for the web and serve as a refresher to ensure you remember the things you learned in college. Later courses will cover specific types of coding that helps you add headers, pictures, video and different images and text to your site. Depending on the program, you might also take business and communications courses that help you learn more about working with clients.
Is There a Thesis Requirement?
Web design is a type of art, and like most art programs, it typically doesn't have a thesis. Instead of writing a long paper, you'll have the chance to create a project that utilizes the skills that you developed in your program. This might include making a site for a business in your area, updating an existing site used by a local school or even creating an in-depth personal site. You'll meet with your adviser throughout your graduate school studies to talk about your project and get some feedback before you submit it.
Related Resource: Web Design School Qualities
You can find a job in web design with only a two-year degree or a bachelor's degree, but those programs won't teach you nearly as much as you'll learn in a graduate program. The top Master's in Web Design programs in the country help you build the best websites in the world.