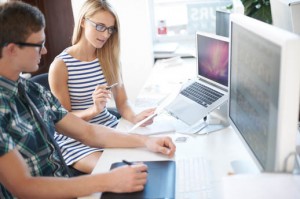 Welcome to Top Web Design Schools, your #1 online resource guide for exploring the best online and on-campus degree programs in web design. Our mission is to share our expert knowledge on the best web design schools across the United States to aid in your quest of finding the degree program that will unlock in-demand career opportunities at the forefront of today's technological revolution.
If you have a creative imagination and a drive to start a career concentrated in web development, digital media arts, web technologies, web programming, applications design, or any other avenue of visual communications, then you have come to the right place! Within our pages, we are committed to providing web design degree reviews and rankings that will point you in the right direction in your search for finding the right program that matches your individualized learning needs.
Beyond offering guidance in your journey of choosing the best web design school, we are here to inform you about the most in-demand career options available to graduates with a web design degree to ensure you are selecting the right professional pathway. Here you will discover interactive blogs, TED talks, infographics, featured articles, high-paying job profiles, career guides, and website links that will provide valuable information to answer all of your questions about getting started on the web design career of your dreams.
Did you know?
Some interesting facts about web design:
• While the national unemployment rate today may be well over 6%, web designers are among elevated company in the tough job market due to their in-demand skill sets in our computerized society. In fact, only 3% of web designers report being unemployed.
• Since hitting an all-time high in the second quarter of 2012, employment of web designers and developers is expected to continue growing faster than the average of other occupations at the rapid rate of 20%, thus creating 28,500 new jobs by 2022.
• In web design/development, the average annual salary is $67,540, which translates to a mean hourly wage of $32.47. However, web designers can make considerably more by working in software publishing, where the annual mean wage if $85,210.
For more information about Top Web Design Schools, we invite you to visit our homepage, start scrolling through our FAQs page, and explore further from there!
Sources:
http://www.bls.gov/oes/current/oes151134.htm
http://www.bls.gov/ooh/computer-and-information-technology/web-developers.htm#tab-1
http://www.mediabistro.com/mediajobsdaily/web-designers-in-high-demand_b12445